During your stay with us at Cranmer Country Cottages you'll find plenty of local places to eat in Norfolk, including pubs, restaurants, tea rooms and delis.
If the cook wants a break here are some recommended North Norfolk pubs cafes and restaurants – you'll be spoilt for choice. During peak season holidays pubs and restaurants can get busy, it is a good idea to book the best places before your stay.  Here are a few of our favourite places.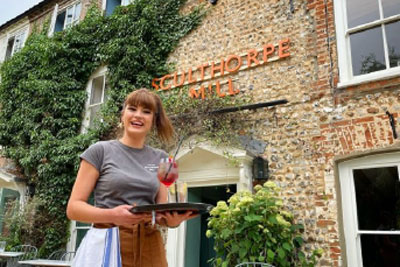 Sculthorpe Mill
Nearby!
2.1 miles from Cranmer
Newly refurbished award-winning pub/restaurant & our local!
"A local pub and 18th-century watermill has been given the Shoreditch treatment while retaining its status as a popular boozer" The Times
Great food, stylish interiors, beautiful setting.
01328 633001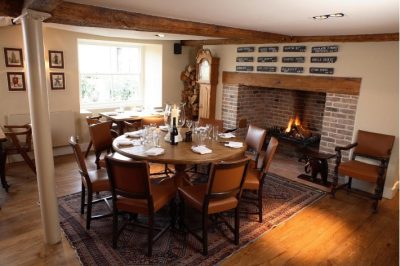 The Crown Inn
East Rudham
5.8 miles from Cranmer
Stylish pub overlooking the village green with delicious new menu. Opens at 4.00pm
01485 528530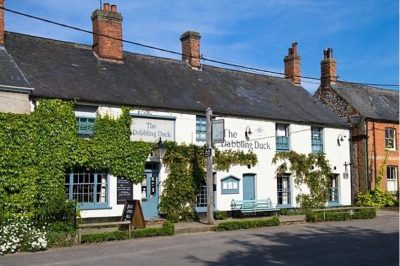 The Dabbling Duck
Great Massingham
11 miles from Cranmer
By the village green with a duck pond, this super local with good food, scrubbed tables and a bar that has been cut from a single slice of ancient Norfolk oak is only twenty minutes from the beach and the bird-rich saltmarshes.
T:01485 520827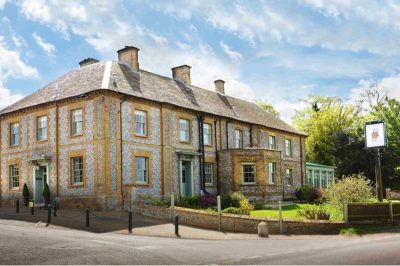 The Victoria at Holkham
Holkham
12 miles
Hotel & restaurant close to the beach at Holkham. Menu relying heavily on the best ingredients the surrounding area has to offer and what is seasonally available, whether it be crabs from Cromer, mussels from Brancaster or venison, beef, game and eel from the Holkham Estate. Advisable to book in advance.
01328 711008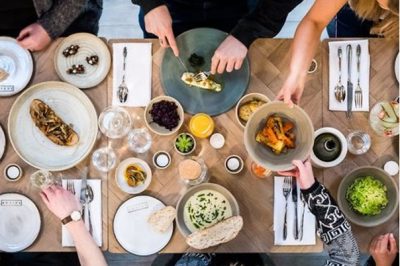 Socius
Burnham Market
10 miles from Cranmer
A wonderfully bright and modern tapas restaurant with sharing platters which has proved hugely popular in the area. Family Friendly.
01328 738307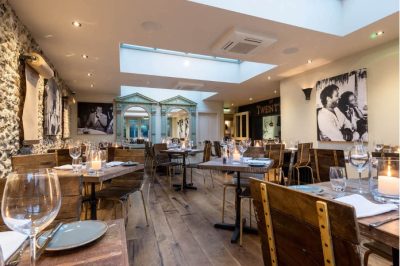 Number Twenty9 Bar & Restaurant
Burnham Market
10 miles from Cranmer
Delicious food and fantastic service, Great menu.
01328 738498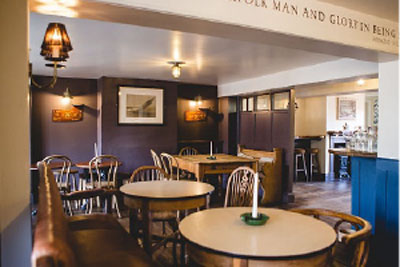 The Hero
Burnham Overy Staithe
11.4 miles from Cranmer
Lovely informal pub & restaurant in a great location at Burnham Overy close to the staithe. Vegetarian and vegan options.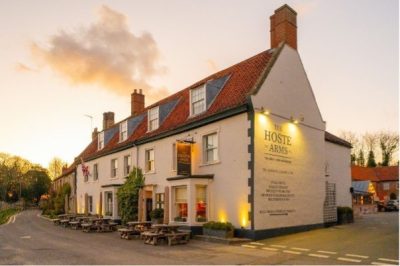 The Hoste
Burnham Market
10 miles from Cranmer
Set in the centre of Burnham Market, The Hoste has been welcoming guests since the 1650s and is home to an award-winning restaurant. Great place for celebrity watching!
01328 738777
The Wells Crab House
Well-next-the-Sea
8.1 miles from Cranmer
An award winning small informal restaurant, owned and run by a husband-and-wife team. Only 10 tables offering a relaxed and welcoming dining experience. Food is beautifully prepared local seasonal seafood dishes and fresh seafood platters. There is a smattering of meat dishes they say for "landlubbers".  Takeaway salads & platters available. Booking essential.
T:01328 710456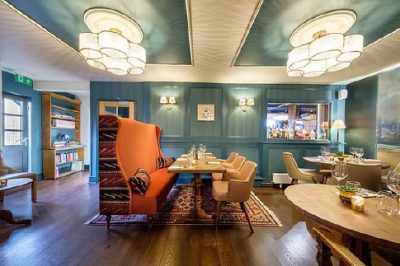 The Globe Inn
Wells-next-the-Sea
11 miles from Cranmer
Recently updated pub/restaurant owned by Holkham Estate. Simple home-cooked food available as bar meals or snacks, children's meals, using local and seasonal ingredients. Dog friendly.
01328 710206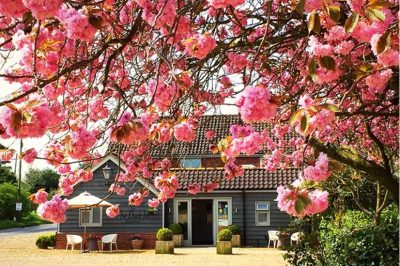 The Duck Inn
Stanhoe
10 miles from Cranmer
A wonderful gastropub It was listed as one of the top 50 UK gastropubs in 2019, and praised highly by Giles Coren in 2020, highly recommended. Booking essential.
01485 518330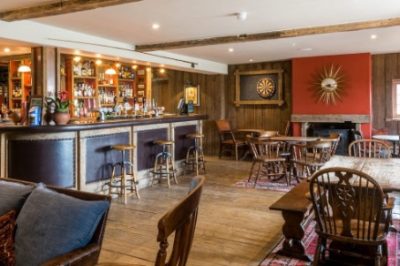 The Brisley Bell Inn
10 miles from Cranmer
This 17th century village inn, renovated from derelict and reopened in 2017 by owners Marcus & Amelia, retains many of its old charms including its characteristic community spirit. Great food by French chef Herve formally at the Walsingham Riddle.
01362 705024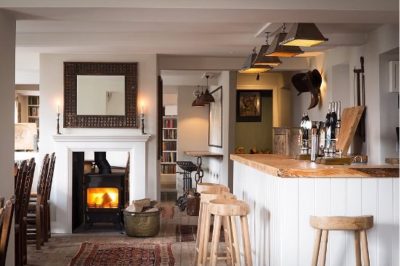 Carpenter's Arms
Wighton
9 miles from Cranmer
Paired back Danish interior and serving Innovative dishes using the finest, locally sourced ingredients. Located just 3 miles outside of the seaside town of Wells-Next-The-Sea, they have plentiful parking & scenic views across local pastures. The double-sided log burner makes the perfect place to while away a cold winter's day whilst the large beer garden provides a tranquil place to soak up the sun.
01328 807080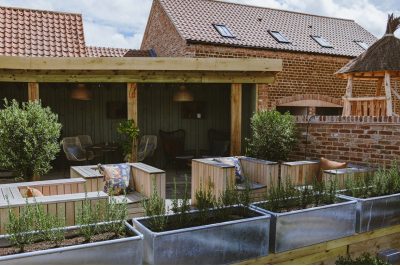 The Gin Trap Inn
Ringstead
15 miles from Cranmer
A wonderful restaurant serving good food and as the name suggests, a large selection of gins! Great outdoors area with children's treehouse play area. Family Friendly.
01485 525264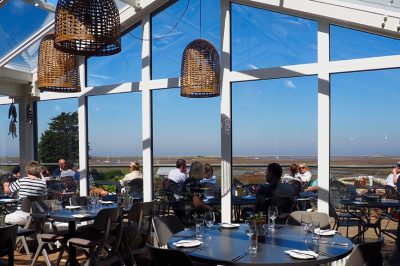 The White Horse
Brancaster
15 miles from Cranmer
This is a hotel with bar/restaurant is located on the north Norfolk coast and has wonderful views over the salt marshes. Booking essential, especially in summer months if you would like to sit outside on the terrace. Family friendly. Great for a luxurious lunch.
01485 210262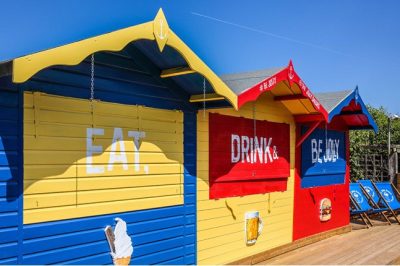 The Jolly Sailors
Brancaster
15 miles from Cranmer
The Jolly Sailor has fully embraced the beauty of outdoor cooking. There's a Smokehouse in the back garden offering smoked meat and fish, BBQ with seafood sourced from across the road and stone baked pizzas on offer.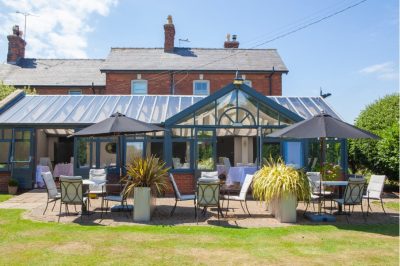 Titchwell Manor
15.7 miles from Cranmer
Gorgeous setting for lunch, right on the north Norfolk coast, close to RSPB Titchwell Marsh nature reserve.  The chefs' flair and flavours have earned them a reputation for exquisitely presented, innovative, modern European food. The finest local ingredients and cutting edge- techniques have won the hotel three AA rosettes.
01485 210779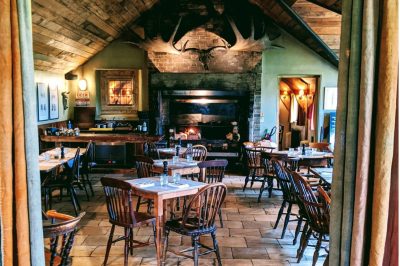 The Gunton Arms
29 miles from Cranmer
Art dealer Ivor Braka's award winning hotel & restaurant with views over Gunton Park.  Well worth a visit, it has a shabby chic country house aesthetic with a great dining experience in a bustling comfortable homely interior with fascinating art work on the walls, as you would expect. The food is locally sourced and perfectly cooked, with meat cooked on the fire in the Elk room in front of you.  Go for a lovely indulgent lunch and then let the kids run off some steam in the grounds as you take coffee in the garden to finish off a perfect lunch. Booking essential!
T:01263 832010