Celebrating an event, or having a family get-together or organising a reunion? Our large holiday cottages are suitable to house all three generations of your family and are the perfect place for a big-gathering.  An ideal place to get everyone together under one roof for an Easter, Christmas or New Year break or simply for a weekend escape to catch up and spend some time with your nearest & dearest.
Our large group self-catering accommodation with indoor swimming pool in Norfolk is ideally suited to groups of 10 – 15 people. You'll find room for the whole family. with enough space to dine and socialise together.  Our large cottages are ideally suited for a gathering of multi-generational families, from tots to teens, grandparents and all ages in between.  There's plenty of space; both indoors and outdoors.  Our cluster of converted barns and cottages feature a luxury indoor heated pool, tennis courts and games room – there's sure to be something for everyone. We also provide plenty of off-street parking and 2 EV charging points on site.
Whether you are planning on celebrating a special occasion, such as a milestone birthday weekend or an anniversary, or if you are just looking for somewhere where the whole family can gather together for Christmas or New Year – look no further.  We even have a large dog friendly cottage so your four- legged friend can join in the fun.
For big groups of family & friends of over 15 guests Cranmer Country Cottages is available to book on an exclusive use basis. Click here for further info>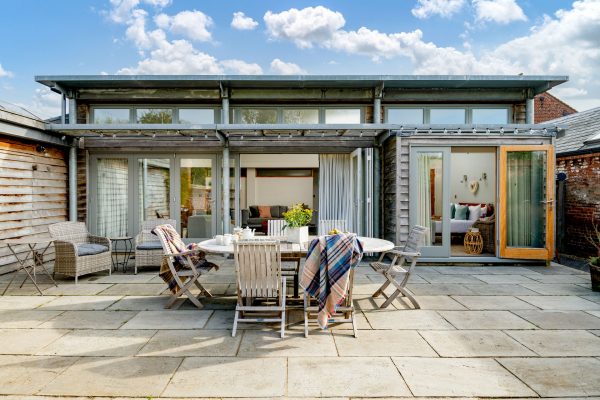 ABOUT OUR LARGE NORFOLK HOLIDAY COTTAGES
Our large cottages are all-together in the same location and are arranged around 3 courtyards within close proximity to one another.  The converted barns are all on one level and offer access friendly spaces for guests with limited mobility. Adjacent properties can be booked together to accommodate groups from 8,10,12 to 15 guests.
We have 3 pairs of cottages together which are adjoined to create a single large home and dining spaces big enough to seat the whole group. If you would rather have some space of your own, booking adjacent holiday accommodation with us can give you the best of both worlds; time together socialising with friends and family some private chill-out time to yourself.
*Our large dog friendly cottage sleeps 8 and is a two-storey cottage, just 200 meters away from the main barns and has private gardens and parking.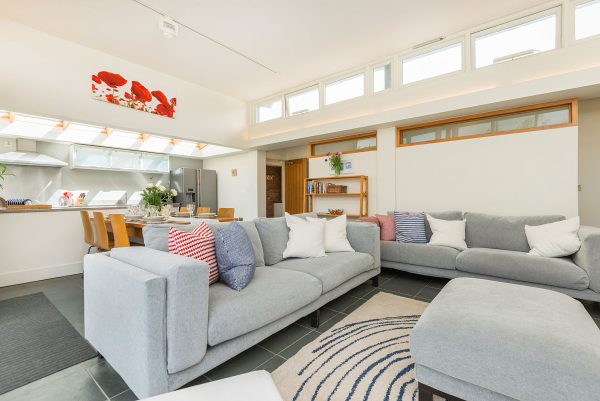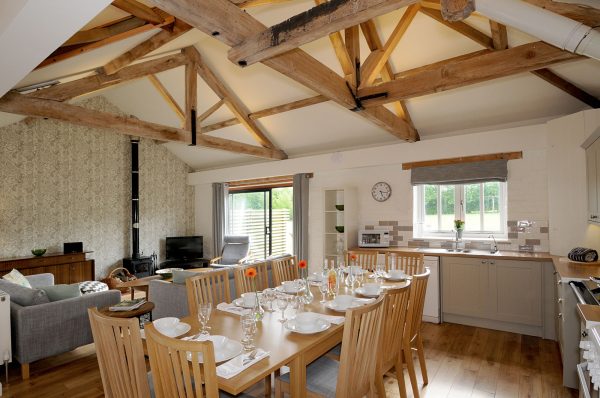 When it comes to planning your big-gathering we find it works best if the whole group are staying together in adjacent cottages. This is more convenient with small children running around and ensures a relaxing stay.
Extended family groups can book the following communicating cottages;
with further room for grandparents in Coot Cottage sleeping 3 people next door. – Total 15 guests.
Cranmer Country Cottages – Family Friendly Group Accommodation

Location


Cottage

Max Sleeps Adults


+ Sleeps Kids


Dines


Bedrooms

Cots


Bathrooms


Access


Pets


Courtyard 1

6

2

8

4

2

2

No

Courtyard1/2

4

4

2

1

1

Yes

No

Courtyard 2

8

2

10

6

2

4

No

Courtyard 3

10

2

12 – 14

6

3

4

No

Courtyard 3

3

2

1

1

1

Yes

No

Annexe

6

2

10+

4

2

2

Yes
Max sleeps adults – bed sizes suitable for adults & children
Sleeps kids – 2ft 6" single beds or small bedroom
The Green Room is available as separate hire for group dining for up to 24 guests staying on site.
With our range of converted holiday barns there are many large group accommodation options available, offering a wide choice of convenience and privacy when required.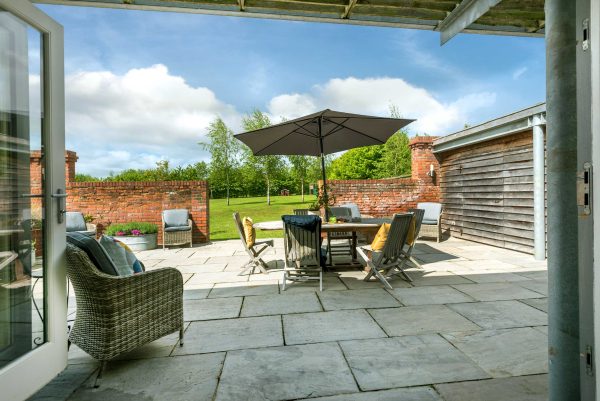 ABOUT THE INDOOR & OUTDOOR SPACE
The accommodation is all single story, and affords spacious open plan kitchen/dining areas for the family to cook, sit and eat together and bedrooms within easy listening reach of sleeping toddlers. The bright vaulted ceilinged living areas lead directly into gardens and play areas; little ones have space to play and adults have time to relax.
Outside there are west facing fenced gardens leading to the large, safe fenced play paddock. The 2- acre recreation area includes outdoor activity equipment and a timber playhouse with plenty of space for running about, flying kites and kicking balls – a great place for making new friends. The cottages each have private terraces and individual garden spaces for family barbeques. Garden House/Eco barn has a private walled courtyard leading from the living/kitchen area and is ideal for al fresco dining for up to 12 or more guests.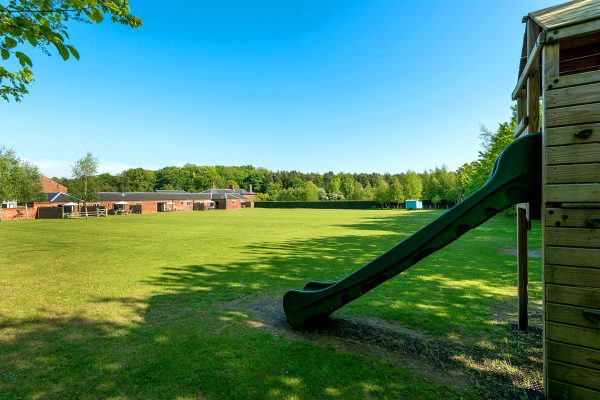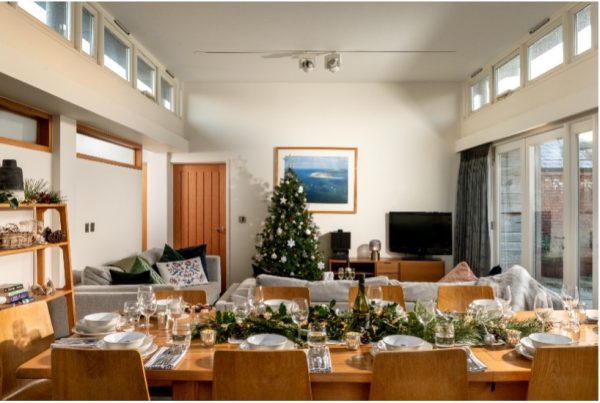 THE ECO BARNS SLEEP 12 – 15 The Eco barns enable catering on a larger scale or you can contact one of our local caterers to cook for you in your cottage. Alternatively, The Green Room meeting room can seat up to 18 for dining together away from your booked cottage.
For further information for our large group cottages click on the links below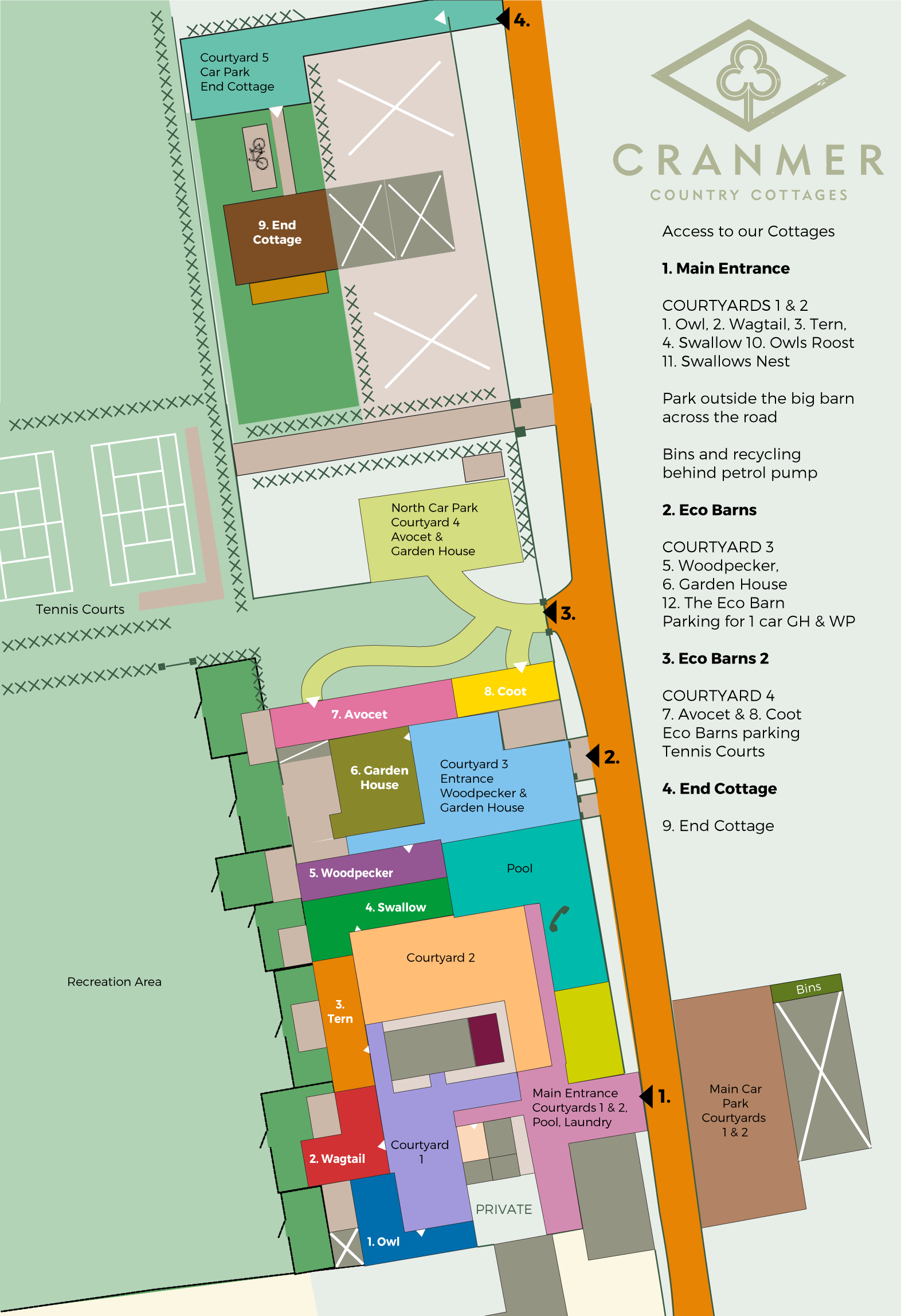 Our amenities at a glance
Beaches nearby
Games room
Children's play area
Tennis Courts
Heated indoor swimming pool
Free Wifi
Fully equipped kitchen
Free Parking on site
Bike storage
 Electric Vehicle Charging
Workspace
Smart TV
Caterers available
Private patio with BBQ
Extensive grounds
Wildlife reserves nearby
Cots available
Child and baby friendly
The play area out the back was ideal and the tennis courts and games rooms provided entertainment for children from 2 years up to 15, plus the adults too! Swimming pool was icing on the cake.
The two cottages were booked as a surprise for my 60th birthday, and what a surprise. I could not have hoped for a more fantastic celebration. We all enjoyed a brisk walk in Wells-next-the Sea, lunch in a local pub followed by a swim in the great pool here. The cottages are so well equipped, everything has been well thought out. I would recommend the cottages to any group wanting something special! Very relaxing time had by all.
The accommodation, facilities and location were fantastic and we couldn't fault our stay at all. It was a perfect choice for our family birthday celebrations
The facilities were fantastic; a large swimming pool, an expansive lawn to run around on and the owners had thought of everything a family might need whilst self catering on holiday.
We enjoyed a multi generational holiday in Swallow cottage during August 2021. The property was very clean and stylishly furnished. The information received prior to our holiday was extensive and helpful in making plans and helped us feel as though the holiday had started a few days early.
A lovely stay was had by all 15 of us. I don't have anything but positive feedback. The cottages were welcoming and all bedroom a good size.
The layout of the Ecobarn meant the two families could eat and socialise together but also had privacy when needed. Really well kitted out with everything you could possibly need. All of our party of 12 agreed we would love to return .
We wanted somewhere with excellent facilities within reasonable driving/cycling distance of North Norfolk Coast for a party of 10 with age ranges from 75 down to 4. Cranmer delivered on this very well with the swimming pool, games room, tennis courts and playing field and plenty of light/space indoors for cooking, eating, sleeping and relaxing and opportunities for the three small groups within the family to join or remain separate as circumstances required.
Very good arrangements for a family group holiday. Excellent that the swimming pool,was kept in operation with a very well organized schedule.
PRICES AND BOOK
Check Availability and Prices and Book Your Family Holidays and Short Breaks :
Our weekly stays are from Friday to Friday.  A standard short break is 3 or 4 nights, available to start on a Thursday, Friday or Monday.  Out of season and if we have last minute availability, we can be more flexible with arrival and departure days. Click here for our Property Rules
To view the price for any cottage, please click on an available start date (any green button O) and request the number of nights you want when prompted. The table will then display the price for your holiday. You can book online by completing the booking form and pay online via a Debit or Credit card.  A 35% deposit is required when booking, the remaining balance is due 60 days prior to arrival. Once you have paid you will receive an automated confirmation, and also a personal confirmation from us. 
The price you see is the price you pay, to see what we include please check on the what we Include tab here.
Your widget will appear here.