CHRISTMAS HOLIDAY COTTAGES IN NORFOLK
Gather friends and family to celebrate Christmas and new year in one of our Norfolk luxury cottages.  We offer a range of flexible breaks from a short Christmas break to a New Year getaway.
Whether you're looking for a romantic Christmas retreat for two or a large property for the whole family, our Christmas holiday cottages tick all the boxes. From cots and highchairs for the smallest family members, to cosy wood-burning stoves for a traditional Christmas scene, you'll find that Christmas is even more special when staying with us in one of our festive holiday cottages.
Our larger holiday cottages and Eco Barns are ideal for getting everyone together to celebrate in one place.  Our luxury onsite facilities including the magnificent heated indoor pool mean that you don't have to leave site to get some family down time.  We even have a dog-friendly Christmas cottage which is also good for New Year's Eve get-togethers so whenever you plan your getaway every family member can join you!  Find some headspace and breathe in the crisp country air on local walks on the coast or in the surrounding countryside or simply sit back and relax in front of the log-burning stove.
Our Christmas holiday cottages are decorated with a tree and all the trimmings, just add your own festive fun! You'll find our cottages and barns are fully equipped to cook up a Christmas feast from fresh local ingredients including the famous Norfolk Black Turkeys, local wines & local cheeses all of which can be delivered to your cottage for your special festive break.
Christmas and New Year cottage Inspiration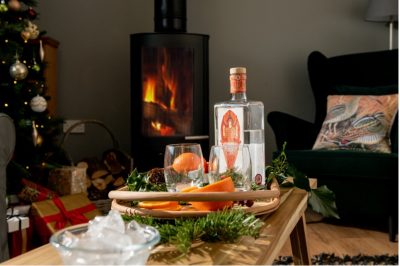 COSY CHRISTMAS COTTAGES WITH WOOD-BURNING STOVES
We have 3 properties with wood-burning stoves, in addition to central heating just to add the feeling of Danish Hygge: The cottages are: Wagtail, Swallow & End Cottage & Owls Roost & Swallow's Nest.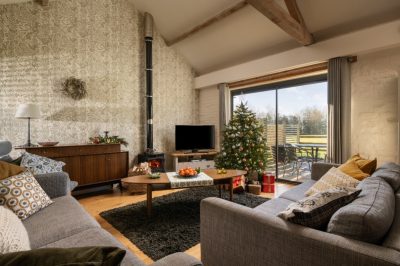 FAMILY FRIENDLY CHRISTMAS BREAKS
Our family friendly Christmas cottages are decorated for the festive season and provide the perfect home away from home for a festive treat.  Either dine in with your Christmas goodies shop delivered to your door, or enjoy a festive lunch at one of our great local pubs or restaurants and give the cook a break.  Enjoy a visit to father Christmas with Santa specials aboard a heritage steam train or visit Thursford Winter wonderland amongst the list of memorable Norfolk Christmas events.
CHRISTMAS & NEW YEAR GET-TOGETHERS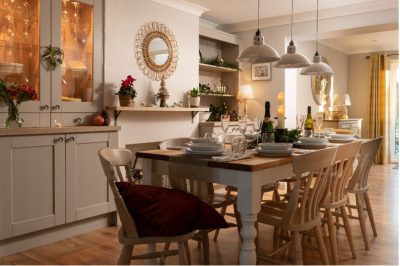 A LARGE MERRY CHRISTMAS GATHERING……
Our inter-connecting and larger Christmas cottages can be booked together for extended family groups of all ages, with plenty of room for everyone to get around the table and lend a hand in the kitchen. Even better is the fact that every family can go home to their own space for a decent night's sleep at the end of celebrations.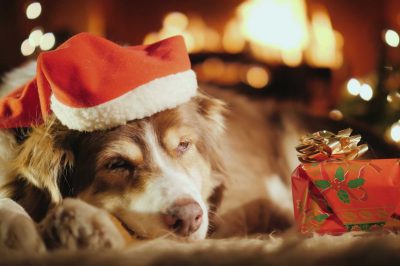 DOG FRIENDLY COTTAGE
Our dog-friendly 2- story End Cottage sleeps up to 8 guests and is located within 200 yards of the main Cranmer Country Cottages site.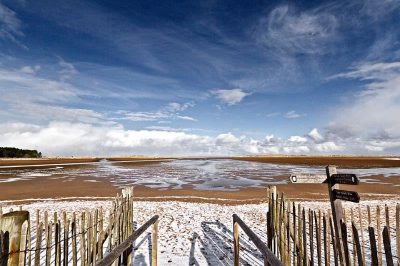 BEAUTIFUL WINTRY WALKS, COSY PUBS, MAGICAL CHRISTMAS STEAM TRAIN JOURNEYS & FATHER CHRISTMAS
We are just a short drive away from the north Norfolk coast and are in an ideal location for easy access for those long Boxing Day morning beach walks, pub lunches and generally getting away from it all.
For young families enjoying the Christmas holiday break there are heritage steam train rides, winter wonderlands and of course Father Christmas.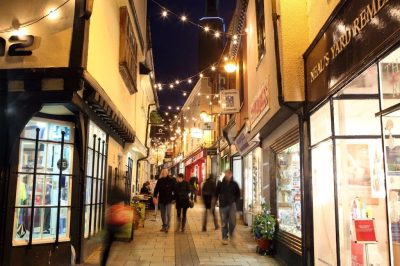 FESTIVE SHOPPING
You'll find plenty of small independent shops in the local towns & villages for a spot of last-minute Christmas shopping.  Burnham Market & Holt are usually adorned with festive lights and decorated shops offering festive fare, special hand-made pieces by local artisans and some fantastic local seasonal produce including local wines, gin whiskey & beer.
"After all, it is where the Royal family spend their Christmas. Enough said"
Swimming pool was fabulous , games room brilliant and were greeted on a very wet dark night with a very happy and smiling host. Truly recommend this farm to stay at , close to Wells next to sea , Holkham Hall and other coastal areas. We will definitely be returning.
Wonderful to come back to such a peaceful place, fresh air and beauty. It was very snowy while we were here and although very cold still fantastic. We loved the touch of the welcoming tea tray and fresh flowers - felt very personal. A wonderful haven!
We stayed here over the New Year - The accommodation was beautiful, very homely, comfortable, all the amenities you need. The onsite facilities were brilliant for the kids. We were sad to leave, and will definitely be booking to come back.
Probably the coldest week in the last 12 months; ice, snow and very cold! Nevertheless we had a good time. It was always lovely to return to the warm welcoming cottage. We experimented by cooking with the Rayburn - great fun and good results. Try it!
Just wanted to say thank you for the wonderfully comfortable - totally enjoyable - Christmas.  We're all agreed we had the best time and End Cottage was perfect for us all
Another great Christmas in Tern, Swallow and Woodpecker Cottages. All very welcoming, warm and comfortable - everything we could need. Our Christmas dinner cooked in the Rayburn. All fantastic yet again!
Our first winter stay and it was even better than we had hoped for! A beautiful place to relax in comfort, fill your lungs with fresh air and spend some time with the most hospitable owners, Lynne and John, who have become friends over the eight years we have been visiting. Thank you.
To view the price for any cottage, please click on an available start date (any green button O) and request the number of nights you want when prompted. The table will then display the price for your holiday. You can book online by completing the booking form and pay online via a Debit or Credit card.  A 35% deposit is required when booking, the remaining balance is due 60 days prior to arrival. Once you have paid you will receive an automated confirmation, and also a personal confirmation from us. 
The price you see is the price you pay, to see what we include please check on the what we Include tab here.
Select your cottage to find dates
Your widget will appear here.
Our Cottages