Sleep 6 adults + 6 children + 2 travel cots  or 7 adults + 4 children or 11 adults. Dining: up to 12 guests. The Eco Barn is two adjacent five-Star luxury cottages Garden House & Avocet hired as a single property for extended family holidays, gatherings and events.  
Property Details
The properties offer flexible space to socialise together when you want to, and a space of your own if you choose to be independent.
The dining table in Garden House will seat up to 12. (See individual cottage layouts here)
Alternatively;
When hired as group accommodation/corporate use, the properties can be organised for group dining and relaxing as shown. (Except during busy periods: Easter Holidays, June, July & August.)
Parking is available in the north carpark and adjacent to Garden House
Sorry no pets
VisitEngland has inspected Avocet and Garden House and awarded both 5 stars.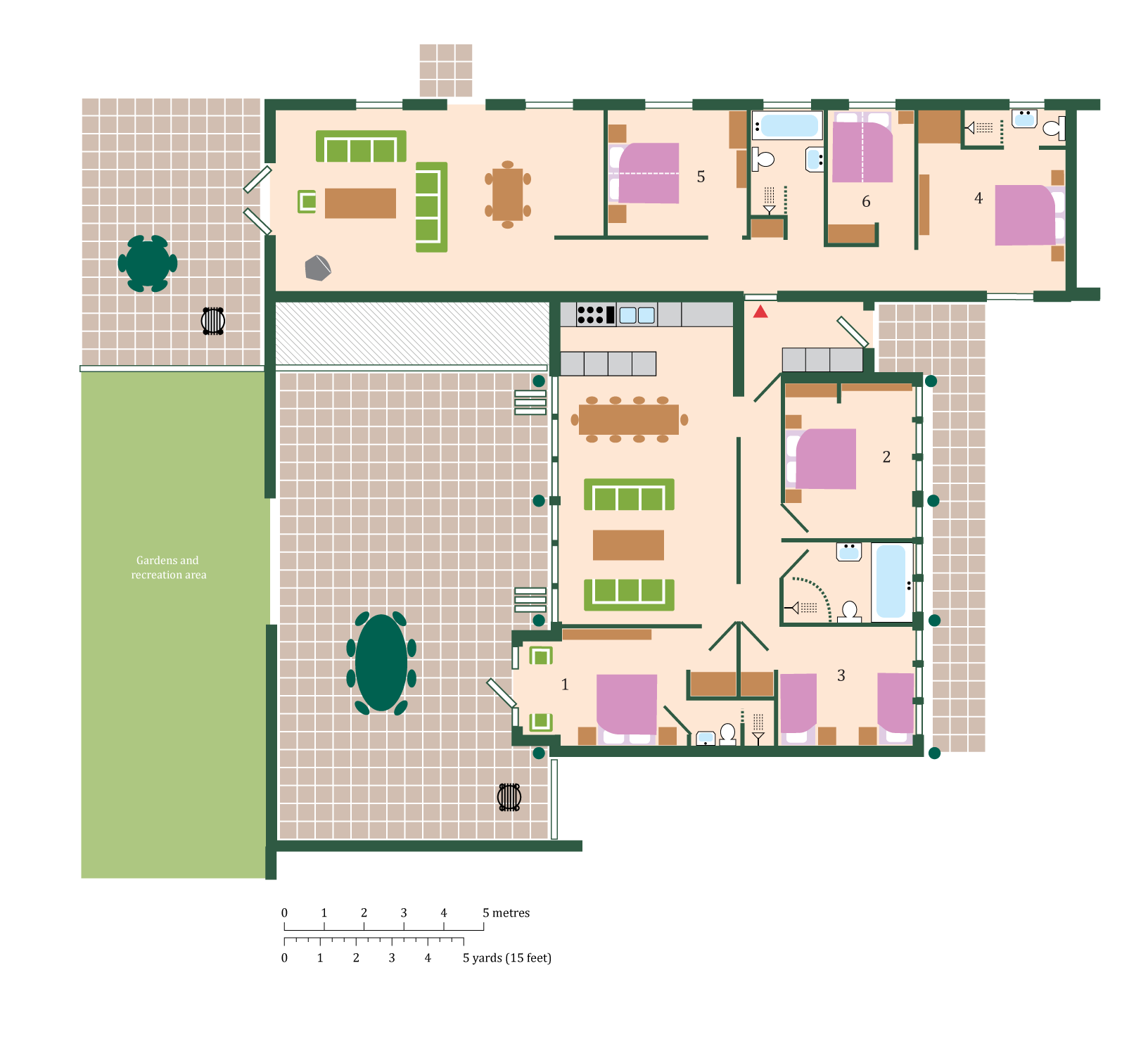 Please note:
Bedroom 5 has a zip & link beds which can be used as either 2 x 3"  singe beds OR 1 x 6ft super king bed
Bedroom 6 has a zip & link beds which can be used as either 2 x 2ft 6"  singe beds OR 1 x 5ft double bed.
See Avocet Cottage for layout options
Please note this cottage is one of our Eco Barns and has solid travertine floors with rugs. Therefore active toddlers may require careful supervision. When booking Coot, Avocet or Garden House guests accept any risks involved.
Sleep 6 adults + 6 children + 2 travel cots  or 7 adults + 4 children or 11 adults
Dining: up to 12 guests
Sleeping:
Bedroom 1 – King sized double bed – En-suite shower room
Bedroom 2 – Kind sized double bed
Bedroom 3 – 2 x 3ft single beds
Bedroom 4 – King sized double bed – En-suite shower room
Bedroom 5 – 1 x 6ft Zip and Link Super King OR 2 x 3ft Zip Single Beds
Bedroom 6 –1 x 5ft Zip and Link Double OR 2 x 2ft 3 in Zip Single Beds
Bathrooms: 2 en-suite shower rooms + 2 family bathrooms with baths & over -bath showers.
Private enclosed outside dining area seating: 12
Additional Information:
Accommodation is all on one level.
The properties are joined by interior insulated communicating doors into a shared boot Lobby. And front door.
The Eco Barn is located in courtyard 3 close to the tennis courts.
Access to the luxury indoor heated swimming pool is from courtyard 2 with a short walk along the road. ­(Site map)
Coot Cottage is just next door and is ideal as a retreat for grandparents or a couple with a young baby. (Coot Cottage – sleep 3)
The dining space in Garden house can be set up to seat 14 by special arrangement.
The Norfolk Country Venue located in courtyard 2 is available for additional dining space, celebrations, meetings or presentation by special arrangement. Please contact us to discuss your requirements at bookings@norfolk-luxury-cottages.co.uk
Avocet Appliances List & Instruction Manuals
Just wanted to let you know we've left this morning – thanks for such a lovely stay it was fab.
We booked Garden House, Avocet & Woodpecker for a surprise birthday party for my son. It was such a brilliant weekend and I would like to thank you for recommending Susi; she was marvellous and the food was perfect. Hope to return to Cranmer Cottages in the near future and would thoroughly recommend them to everyone.
If you are looking for a luxury, family stay in North Norfolk, this is it. If you are looking for a luxury, ecologically aware family stay this is it too. A fabulous holiday with a green conscience, if you will......
An excellent example of how a luxurious accommodation can attempt to be carbon neutral
The Eco Barn was a lovely place to stay we were pleasantly surprised the Garden House and Avocet were actually connected not just 2 buildings next to each other which was great for our stay. Plenty to keep the children entertained and over all very comfy place to stay. Only a short drive from wells next the sea for a day trip out too. Highly recommend for somewhere to stay in Norfolk.
I can't think of another five-star self-catering accommodation in the UK that is as green as Cranmer
We had a lovely time at Cranmer. Customer service is amazing and we treasured the swimming pool and game rooms.
Thank you very much. It was our second stay with you guys and was very enjoyable. Couldn't have asked for more. looking forward to staying with you guys again in the future.
Came across this hidden gem by accident and would like to keep it our secret ! However so pleased they are doing well. A lot of care and detail has gone into the renovation of these barns including a fab swimming pool and an essential games room for kids.
Check availability online or call 01328 823135
Your widget will appear here.
To view the price please click on an available start date (any green button O) and request the number of nights you want when prompted. The table will then display the price for your holiday. You can book online by completing the booking form and pay online via a Debit or Credit card.  A booking can not be reserved until we receive a 35% deposit. Once you have paid you will receive an automated confirmation, and also a personal confirmation from us.