North Norfolk has some of the most beautiful beaches in the UK.  Many of the beaches are within a ten to 15 miles of drive of Cranmer Country Cottages. Whether you're looking for a whole day on the beach or simply a morning or afternoon you can go as you please and experience breath-taking walks, a picnic in the dunes or simply family sandcastle building in the sun.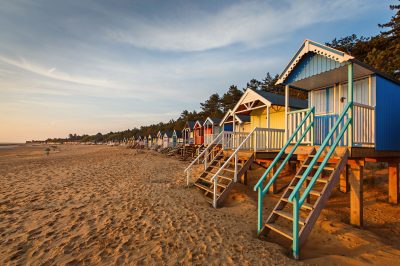 Wells-Next-The-Sea
9.2 miles from Cranmer
This is a great sandy beach that stretches for miles with beach huts, pools for paddling and endless sandy stretches for long walks. Best to park at Pinewoods Caravan Park. On cooler days warm up with coffee or famous hot chocolate & snacks from the Wells beach café.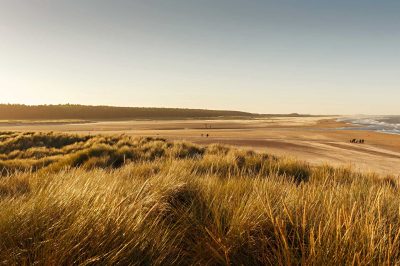 Holkham
10.3 miles from Cranmer
Holkham has a really dramatic sandy beach great for solitude seekers and fringed with pine trees with film connections – it featured in Shakespeare in Love. Park your car on Lady Anne's Drive opposite the Victoria Hotel or walk from Burnham Overy or Wells.  Alternatively, take the ferry out to the beautiful Scolt head island, an ideal place for a pic-nic – check the tide times first!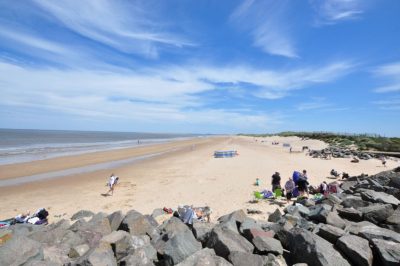 Brancaster Family Friendly Beach
12.4 miles from Cranmer
Though this beach is less dramatic than Holkham it's more family friendly, as the tide doesn't go out too far.  Parking is adjacent to Brancaster beach. Follow your visit to Brancaster with a visit to the White Horse pub & restaurant and watch the sun go down across the marshes. (Child-friendly it is advisable to book at weekends and in season).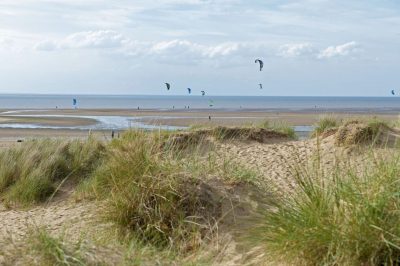 Hunstanton Beach
18 miles from Cranmer
The beach and cliffs face west giving perfect spots for viewing spectacular sunsets. When the tide is out there are plenty of rock pools around the groynes. Dog friendly beach area. Classic breakfast at the dog-friendly Lighthouse café in Old Hunstanton overlooking the sea. Alternatively, you'll find great coffee and vegan options at the Old Town Beach Café next door to the Lifeboat station.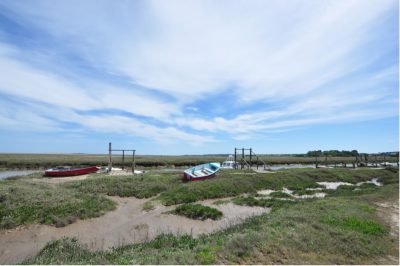 Thornham Beach
16.4 miles from Cranmer
"Remote, quiet and out-of-the-way".  Thornham beach is probably the most remote beach in North Norfolk and perfect for lovers of privacy and seclusion.  Set in an Area of Outstanding Natural Beauty, this beach requires a walk of just over half a mile in order to reach it, and this is what makes it so special.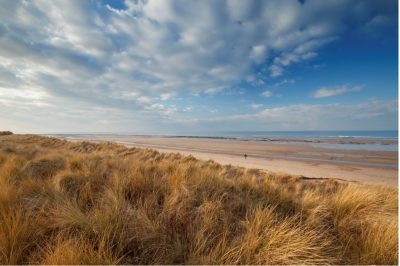 Holme Beach
18 .7 miles from Cranmer
A little-known stretch of sandy coastline that is perfect on a hot summer's day when you want to escape the masses. Located through Hunstanton Golf Course you can walk for miles to Hunstanton or Thornham on white sand.
Image copyright Richard Osborne for Norfolk wildlife trust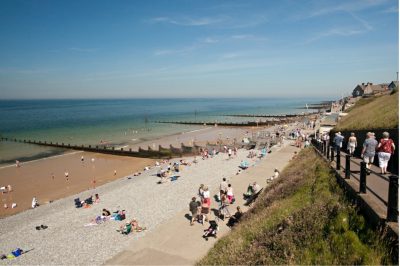 Sheringham Beach
22 miles from Cranmer
Sheringham beach has blue Flag status and is a stony beach but at low tide there's lots of sand and great rock pools when the tide goes out. Check the tide times before you visit.  It's ideal for families, however, it is slightly tricky if you've got a buggy, because getting down to the beach isn't very easy across the pebbles, and there are WC's and showers on the promenade, which is always useful to know!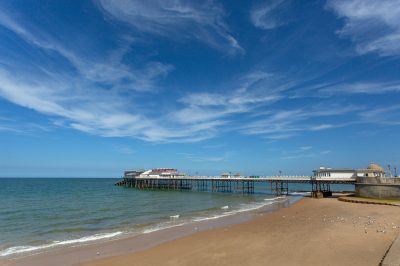 Cromer Beach
25 miles from Cranmer
Cromer beach was once part of the Victorian seaside resort of Cromer. Cromer beach still boasts a pier! The distance is worth the effort for a day out. You can eat fish and chips at the fantastic No. 1 fish and chip shop overlooking the sea and the pier. There is also the lifeboat station and the RNLI Henry Blogg Museum if the weather isn't too good.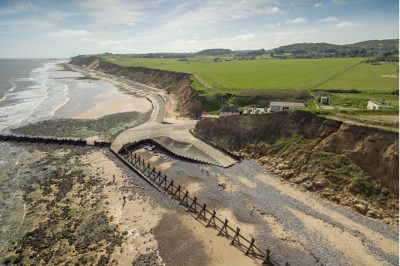 West Runton Beach
23 miles from Cranmer
A superb spot for rock pooling at any time of the year.  The water tends to be warmest in September.  West Runton beach is a great place to explore wildlife and is famous for its incredible fossil finds including the West Runton mammouth. At low tide the flint rockpools and their residents are exposed giving visitors a chance to get a real glimpse of marine life. There is an excellent café and an exhibitions detailing the importance of The Deep History Coast project.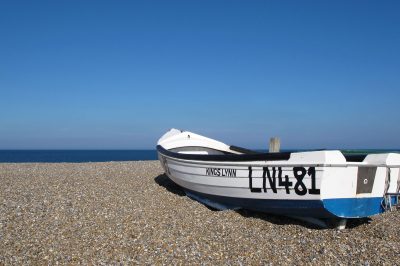 Cley-next-the-Sea Beach
18.4 miles from Cranmer
This is a quiet, pebbly beach with stunning views to either side. Great for nature walks or beach angling. Peaceful all year round. There is good swimming at high tide.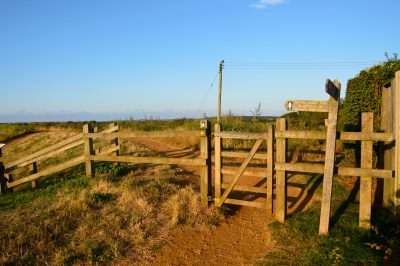 The Norfolk Coast Path
The Norfolk Coast Path runs from Hunstanton in west Norfolk round to Sea Palling on the north east Norfolk coast. The majority of this walking trail runs through the dramatic landscape of the Norfolk Coast Area of Outstanding Natural Beauty.
We had the most wonderful stay at Cranmer Cottages. Set in the most stunning location with rolling countryside it really was a little slice of heaven. We will definitely be returning for another stay in the near future. Thank you all very much.
We have stayed here countless times over the past 9 years and always have a fantastic holiday. Great location, great property, great facilities!
Another excellent stay at Cranmer that even Covid could not spoil!
We had a wonderful family time in this perfect hideaway
The play area out the back was ideal and the tennis courts and games rooms provided entertainment for children from 2 years up to 15, plus the adults too! Swimming pool was icing on the cake.
A wonderful week with plenty of memories - and amazingly enough, no rain, even some sunshine. Completely sold on Norfolk and this place - have no doubts we will be back.
Lovely cottage and fantastic facilities for the children (aged 3 + 5)
Our family love visiting Cranmer Country Cottages and we have returned for the past 4 years. We all feel like its 'home from home' and are always made to feel so welcome by the wonderful staff. The children particularly love the yummy handmade chocolates on arrival and they are so excited to jump straight in the pool after our long journey from Hampshire. It is so worth the drive! It is brilliantly located for fantastic family days out and long strolls on amazing beaches. We have so many lovely memories
I really loved Norfolk. The cottage is so so so great and the pool was the best. Everyone absolutely loved it - we thought we should have stayed a whole week. I wish I could stay forever. Bye Bye!
Booking & Availability
Check Availability and Prices and Book Your Family Holidays and Short Breaks :
Our weekly stays are from Friday to Friday.  A standard short break is 3 or 4 nights, available to start on a Thursday, Friday or Monday.  Out of season and if we have last minute availability, we can be more flexible with arrival and departure days. Click here for our Property Rules
To view the price for any cottage, please click on an available start date (any green button O) and request the number of nights you want when prompted. The table will then display the price for your holiday. You can book online by completing the booking form and pay online via a Debit or Credit card.  A 35% deposit is required when booking, the remaining balance is due 60 days prior to arrival. Once you have paid you will receive an automated confirmation, and also a personal confirmation from us. 
The price you see is the price you pay, to see what we include please check on the what we Include tab here.
Your widget will appear here.
Our Cottages